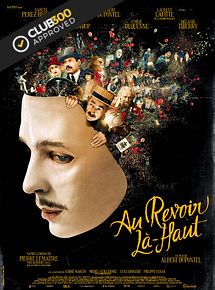 This film is the adaptation of the novel of Pierre Lemaître, a french writter who won the "Prix Goncourt" with the book "Au revoir là-haut". In this film, directed by Marc Dupontel (who play the main character too) and the scenario is realised by Marc Dupontel and Pierre Lemaître himself, we see the amazing story of two french soldiers after the war, who are trying to go from rags to riches.
I know it's unusual, but I will start with the ending, which is the imperfection of the film. Indeed, the final scene, after many sudden developments, shows a flimsy "happy-ending": the three protagonists are making a hug and looks very happy, even if one has seen a suicide and the other lost his best friend.
But this is the only minor flaw of the film.The film strenghs lie in two things: the plot and the actors. First, we clearly see the difference between the plot's writer and the "Hollywood" plot. There is always one detail of the narration which serves to surprise the spectator. Every element of the story is use to catch the attention. The plot is splendid. The actors are touching because they feel natural. They are not trying to make us cry, they are human, it never sinks into sentiment. They seem taken by the plot, and we are living the story with them. Both are bringing simply pure emotional power. We can say it's a masterpiece because there is nothing to throw.